Description
Edit
"Mid-range round for pistols and some submachineguns."
.40 Caliber rounds are type of ammunition found in State of Decay. They are used by some modern pistols and SMGs.
Attributes
Item List
Edit
This following item lists contain this item
Note: S = State of Decay Storyline; B= Breakdown; L= Lifeline
Weapons that use .40 caliber rounds
Edit
Notes: Weapons noted with (B) are those introduced in Breakdown DLC.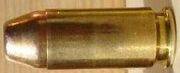 .40 Cal rounds can be found in storage lockers of enclaves with good ammo supplies (Wilkersons, The Law etc.). These rounds deal a medium amount of damage. They are used by some modern high end firearms like UMP 40 or OHWS 40. One round weights 0,03 lbs.
This round is based on the .40 S&W round, which was developed to mimic the balistic properties of the FBI's 10mm auto round.
Ad blocker interference detected!
Wikia is a free-to-use site that makes money from advertising. We have a modified experience for viewers using ad blockers

Wikia is not accessible if you've made further modifications. Remove the custom ad blocker rule(s) and the page will load as expected.