Description
Edit
"Powerful mid-range workhorse for pistols, some revolvers and rifles." .45 Cal rounds are a type of ammunition found in State of Decay. They are used in pistols, revolvers, rifles and SMGs.
Attributes
Item List
Edit
This following item lists contain this item
Note: S = State of Decay Storyline; B= Breakdown; L= Lifeline
The round shown in game is .45 ACP which would be used in a semi-auto pistol or submachine gun, but due to it's use in rifles and revolvers it is also likely that it includes .45-70 Govt. and .45 Colt respectively.
.45 Cal rounds are one of the most common types of ammo as they spawn in storage lockers of every enclave and are commonly found while scavenging. While every enclave spawns at least 28 of them, the best source of this type of ammo are scripted enclaves like Wilkersons or Grange.
Weapons that use .45 caliber rounds
Edit
Notes: Weapons noted with (B) are those introduced in Breakdown DLC.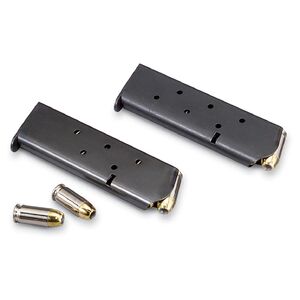 Ad blocker interference detected!
Wikia is a free-to-use site that makes money from advertising. We have a modified experience for viewers using ad blockers

Wikia is not accessible if you've made further modifications. Remove the custom ad blocker rule(s) and the page will load as expected.