Description
Edit
"Standard NATO battle rifle caliber, includes the .223 caliber family of rounds as well."

5.56mm is a type of ammunition found in State of Decay. It is commonly used in assault rifles.
Attributes
Item List
Edit
This following item lists contain this item
Note: S = State of Decay Storyline; B= Breakdown; L= Lifeline
It is possible to get infinite amount of these by looting storage lockers of enclaves with good ammo supply like Wilkersons or The Law.
Calling the 5.56mm round a "battle rifle caliber" is technically incorrect as it is actually an intermediate cartridge used primarily in assault rifles.
Weapons that use 5.56mm rounds
Edit
Notes: Weapons noted with (B) are those introduced in Breakdown DLC.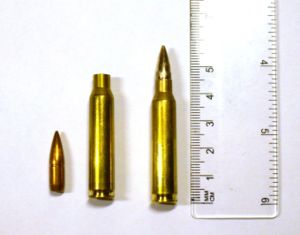 Ad blocker interference detected!
Wikia is a free-to-use site that makes money from advertising. We have a modified experience for viewers using ad blockers

Wikia is not accessible if you've made further modifications. Remove the custom ad blocker rule(s) and the page will load as expected.