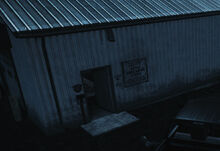 Description
Edit
Coach Seel's Man Cave is a chain for stores dealing in firearms, fuel, and ammunition, though they are consistently marked as warehouses or, in the case of the Fairfield location, offices, rather than gun shops.
Locations
Edit
Coach Seel's Man Cave has three locations in Marshall, one in the downtown area, one near the Swine & Bovine and the Gun Shop, and one near The Grange. The Man Cave also has a location in Fairfield, located to south of the post office, and a location in the Monroeville district of Danforth. A delivery truck belonging to Coach Seel's Man Cave can be found on the Danforth Beltway, and usually contains a large number of military-grade firearms, often including a GL M32 and/or a light machine gun.
Ad blocker interference detected!
Wikia is a free-to-use site that makes money from advertising. We have a modified experience for viewers using ad blockers

Wikia is not accessible if you've made further modifications. Remove the custom ad blocker rule(s) and the page will load as expected.