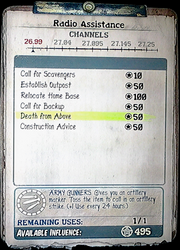 Description
Edit
"ARMY GUNNERS. Gives you an artillery marker. Toss the item to call in an artillery strike." Death from Above is a Radio call used for destroying zombies.
Unlocking
Edit
In State of Decay, this radio call is unlocked after the player completes mission Insubordination.
Although this radio call cannot be stacked, Artillery Marker can, making it possible to accumulate large amounts of this highly destructive consumable item for use in later stages of the game.
Ad blocker interference detected!
Wikia is a free-to-use site that makes money from advertising. We have a modified experience for viewers using ad blockers

Wikia is not accessible if you've made further modifications. Remove the custom ad blocker rule(s) and the page will load as expected.