Xbox Controls

Edit
| Control | Active | Active While Aiming | Active While Driving |
| --- | --- | --- | --- |
| LT | Aim | N/A | Reverse |
| LB | Sprint | N/A | N/A |
| RT | N/A | Shoot | Accelerate |
| RB | Use Items | N/A | N/A |
| START | Pause | Pause | Pause |
| SELECT | Open Map | Open Map | Open Map |
| LS | Move | Move | Steer |
| LS (Click) | N/A | Switch Camera/Zoom | Horn |
| RS | Camera | Camera | Camera |
| RS (Click) | Flashlight | Flashlight | Headlights |
| Y | Interact | Reload | Open Car Door |
| X | Melee | N/A | Door Attack |
| B | Dodge | N/A | Hand Brake |
| A | Jump | Firemode | Toggle Police Siren |
| ↑* | Open Journal | Open Journal | Open Journal |
| ↓* | Open Radio | Open Radio | Open Radio |
| ←* | Cycle Items Left | Cycle Items Left | N/A |
| →* | Cycle Items Right | Cycle Items Right | N/A |
Xbox Control NotesEdit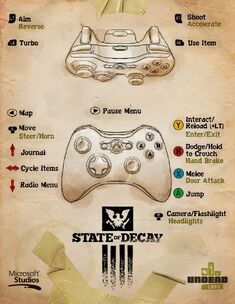 Some names have been changed to be understood better, such as Turbo was renamed to Sprint, and Map was changed to Open Map.
If a command doesn't work in specific conditions, it is listed as N/A.
For LS (Click) While aiming, the command is dependant on if the gun has a scope.
For A while driving, you must be driving a Police Cruiser.
For A while aiming, the firemode is dependant on if the gun is Semi Automatic, or Fully Automatic.
Anything Marked with * is for the D-Pad on the controller.
PC Controls
Edit
| Control | Activates | Note |
| --- | --- | --- |
| up | Accelerate | Must be in a car |
| left | Steer Left | Must be in a car |
| down | Brake/Reverse | Must be in a car |
| right | Steer Right | Must be in a car |
| SPACE | Handbrake | Must be in a car |
| LEFT CLICK | Door Attack | Must be in a car |
| T | Turn On/Off Headlights | Must be in a car |
| E | Exit Vehicle | Must be in a car |
| H | Horn | Must be in a car |
| LEFT CTRL | Siren | Must be in a Police Cruiser |
| Control | Activates | Note |
| --- | --- | --- |
| F | Use Item | Must have consumables in backpack |
| MOUSE WHEEL UP | Previous Item | Must have consumables in backpack |
| MOUSE WHEEL DOWN | Next Item | Must have consumables in backpack |
| X | Drop Rucksack | Must have rucksack |
| T | Turn On/Off Flashlight | |
| Control | Activates | Note |
| --- | --- | --- |
| TAB | Journal | Opens Journal |
| L ALT | Radio | Shows Radio Options |
| M | Map | Opens Map |
| CAPS | Social | Character Names, Emotes |
| Control  | Activates | Note |
| --- | --- | --- |
| up | Move Forward | |
| left | Move Left | |
| down | Move Back | |
| right | Move Right | |
| L SHIFT | Sprint | Hold While Moving |
| SPACE | Jump | |
| C | Croutch | Also called Sneak |
| L CTRL | Roll | |
| E | Interact | Opens Doors, Talk to NPC's |
| Control | Activates | Note |
| --- | --- | --- |
| LEFT CLICK | Melee Attack | |
| Z | Execute | |
| RIGHT MOUSE BUTTON | Aim/Scout | Scout happens if you do not have a gun equipped. |
| LEFT CLICK | Shoot | Must be Aiming |
| R | Reload | Must be Aiming |
| Firemode | Space | Dependant on if gun is Semi-Auto or Full-Auto |
| Q | Camera/Zoom | |
| Control | Activates | Note |
| --- | --- | --- |
| 1 | Cheer | Also Called Emote 1 |
| 2 | Taunt | Also Called Emote 2 |
| 3 | Agree | Also Called Emote 3 |
| 4 | Disagree | Also Called Emote 4 |