Description
Edit
Although spawning is generally random, there are some houses in State of Decay that will, on all playthroughs, have 4 or more firearms within them. Given that an Enclave does not spawn there.
Known Locations
Edit
White House on HillEdit
On the dirt road to The Wilkersons farmhouse you'll pass a white house on a hill, this location will often hold a large amount of pistols/revolvers. Seems to be a spot where an Anvil will spawn, but not always. If you see the cabin to the right, you have gone too far. Next to the House, there is a shed which oftenly contains a source of Fuel.
Yellow HouseEdit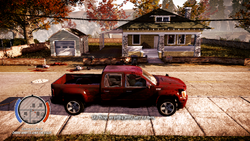 In East Marshall there is a helicopter crash that destroyed a home. Across from the wreckage is a yellow house with a storage near it. Inside the house there is generally a bountiful supply of guns, which sometimes includes assault rifles and high powered rifles.
To the west of the park are three houses, including the house of Dr. Thomas Horn. Maintaining an Outpost at the Horn Residence is recommended, as each house contains large quantities of Food, Medicine, Materials, and at least 4 guns in each house.
Ad blocker interference detected!
Wikia is a free-to-use site that makes money from advertising. We have a modified experience for viewers using ad blockers

Wikia is not accessible if you've made further modifications. Remove the custom ad blocker rule(s) and the page will load as expected.