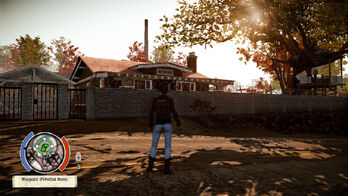 Home Sites serve as the player's base of operations while surviving in the zombie apocalypse in State of Decay and State of Decay 2. They are typically a walled-off location containing a number of spots for facilities that contribute to your community's ability to survive.
Home Sites are the primary means by which the survivors in the player's community protects themselves from the undead. All home sites have a defensible perimeter (usually walls or fences) and are capable of storing items and resources. They can be improved by constructing facilities and outposts to produce daily resources or provide characters with places to rest and recover from tiredness, illnesses or injuries.
In Storyline mode, the player can encounter 8 home sites throughout the game. The first two are given to the player through the story, although the first one, Ranger Station, is not under control of the player, and thus is not considered an "official" home site. The Church of the Ascension is the first "real" home site under player control. Occasionally, home sites can be occupied by random Enclaves.
Black Friday - An abandoned strip-mall converted into a military camp shorty following the outbreak.
Comparison
Edit
Facilities
Edit
All home sites have some built-in facilities which are always present when the player moves in. The facilities will be in disarray and unusable until fixed up; furthermore, they cannot be upgraded or removed.
Each home site has a different number of available spaces for facilities, outposts, and parking spaces. The player can occupy only one home site at a time; furthermore, upon relocating to a new home site, all constructed facilities from the old one are lost.
To relocate home site, open radio command and select Relocate Home Base. This radio command is only available after the player completes the Mission Home Away From Home.
Relocating costs 100 influence, as well as specific Building Materials and Population requirements that vary from site to site.
It is not possible to relocate if the number of outpost slots in the new base is less than the number of outposts the player currently has.
Aside from the habitable home sites, many spots on the map are shown as "Potential Home Sites" (without material and population requirement). It is not possible to relocate to these sites. Apparently they are used to mark locations that the RV can break down when reaching a new level in Breakdown DLC.
Vehicles parked in parking areas in state of decay 2 will carry over to other home sites on the same map, they will not however carry over to new maps.
In State of Decay 2 home sites occupied by an enclave have an accessible supply locker for as long as enclave survives.