Spoiler warning!
The following may contain spoilers regarding game-play in State of Decay
Summary
Judge Lawton is the leader of an
enclave
 in the 
County Court House
in the town of
Marshall
, she lives there surrounded by members of the
Sheriff
's office and SWAT.  Having established her own brand of society, she has been transmitting warnings to local residents to obey the law and assist the local law enforcement agencies with reestablishing control over the area.  This includes relinquishing all firearms to the authorities, and ceasing all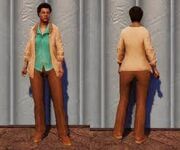 scavenging activities.  She's been credited by
Carl
, the local Sheriff, for having saved Marshall in the early days of the infection.
She is first introduced to the player during the mission "The Law".
Notes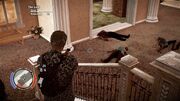 Judge Lawton is a Non-Playable character.

She doesn't like arming civilians and tells Carl that having untrained armed civilians around makes her feel uncomfortable.
She does not appear concerned about clearing up the town or aiding isolated survivor's.
She has a scripted death when the courthouse is attacked by zombies.
It is unknown how excactly she died, as there are no signs of struggle or attack on the Judge's body.