Description
Edit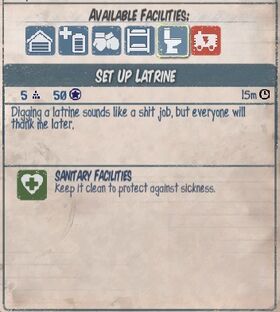 "Clean facilities for the disposal of human waste."
The Latrine is one of the optional facilities introduced in the DLC Lifeline.
Facility Bonuses
Edit
Sanitary Facilities: A sanitary latrine is the key to a healthy base.
Requirements
Edit
The Latrine will gradually get dirty. At some point it becomes filthy and offers no bonuses until cleaned up.
Historically, diseases caused by the improper disposal of human wastes have killed more soldiers than the actual fighting. (Citation needed)
Ad blocker interference detected!
Wikia is a free-to-use site that makes money from advertising. We have a modified experience for viewers using ad blockers

Wikia is not accessible if you've made further modifications. Remove the custom ad blocker rule(s) and the page will load as expected.