Rendezvous with Sgt. Tan.
Description
Edit
Exit Strategy is among the final storyline missions of State of Decay.
Once the player arrives at the mission start point, a cutscene will play. Sgt. Tan concludes that to escape, they must go through the massive containment wall at the mouth of the valley. Lily suggests destroying it with explosive, and Sgt. Tan agrees with the plan. He suggests that the player's enclave begin making preparations to leave the valley. The mission ends at this point
Completing this mission unlocks the mission The Armory
Return to Walkthrough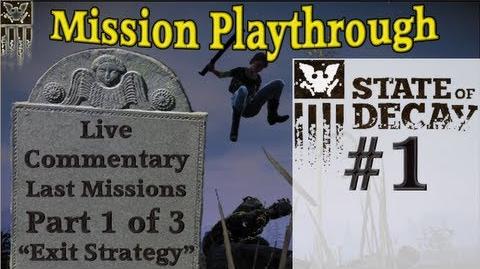 Ad blocker interference detected!
Wikia is a free-to-use site that makes money from advertising. We have a modified experience for viewers using ad blockers

Wikia is not accessible if you've made further modifications. Remove the custom ad blocker rule(s) and the page will load as expected.