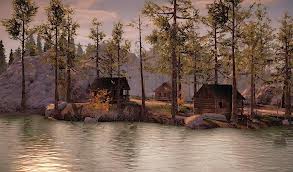 For the storyline mission with the same name, see Mission: Mount Tanner.
Description
Edit
The starting location for the game is in a remote fishing camp at Mount Tanner State Park. It is a forested area that has a number of cabins, camping sites, and a lake. From the lake, a mountain, presumably Mount Tanner itself, is visible in the background, but not accessible to the player.
The destination's lack of communication with the outside world may be a prime motivator in the reason it was chosen as the starting tutorial area.  The bridge leading to Spencer's Mill is blown out and the player is left to find another way to get to the other side of the gorge.
Marcus Campbell, Ed Jones, Maya Torres, Thomas Ritter, Wendell Higgins, and Sheila Brookstone are on Mt. Tanner when the game begins.
Locations
Edit
Water Tower (survey point)
a number of camp sites
Industrial Supply Store
Cabins
Ad blocker interference detected!
Wikia is a free-to-use site that makes money from advertising. We have a modified experience for viewers using ad blockers

Wikia is not accessible if you've made further modifications. Remove the custom ad blocker rule(s) and the page will load as expected.