The Radio is used as a link between the home site and survivors in the field. Lily Ritter serves as the base radio operator, providing mission information to the active survivor and functioning as a liaison for Survey Support radio calls.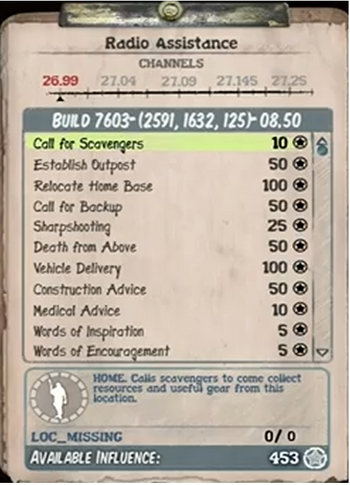 Incoming Calls
Edit
The home site will contact the active survivor over the radio to initiate simulation missions. These calls occur at random and mark the start of the mission's timer; an additional reminder call is made when a mission timer is about to run out.
Outgoing Calls
Edit
The active survivor can also call for field support through the radio. By pressing Down on the directional pad, the survivor can view the radio menu and choose an call to use. All radio calls cost influence to use, with the exact cost varying from call to call. The more powerful the call's effects, the most influence the call costs. Most calls require the completion of a linked mission to unlock before they become available.
Support is also available to help the active survivor locate specific resources in the field. Referred to as survey support, these calls are made through the base menu.
Field Support
Edit
Radio Assistance is a menu to call support from the base.
Note that influence costs may vary.
Survey Support
Edit
You can also look through the base menu and select the Radio Assistance for help looking for certain resources. Unlike the field support options listed above, these calls are not accessed through the d-pad radio menu, but rather through the base menu.
Make a Radio Call looking for Survivors: 100 Influence
Make a Radio Call looking for Building Materials: 20 Influence
Make a Radio Call looking for Medicine : 20 Influence
Make a Radio Call looking for Ammunition: 20 Influence
Make a Radio Call looking for Food: 20 Influence
Make a Radio Call looking for Fuel: 20 Influence
Unlike field service requests, however, survey support calls do not always succeed; there is a chance that the resource in question will not be located. Additionally, unlike the map markers for radio-dispatched missions, survey support markers indicate the starting location for finding the resource in question. Once the survivor has arrived at the marked location, several nearby buildings will be marked; one will have the listed resource.