Ad blocker interference detected!
Wikia is a free-to-use site that makes money from advertising. We have a modified experience for viewers using ad blockers

Wikia is not accessible if you've made further modifications. Remove the custom ad blocker rule(s) and the page will load as expected.
Description
Edit
A sleeping area allows survivors to rest, remove Tired status and regain their max
stamina
.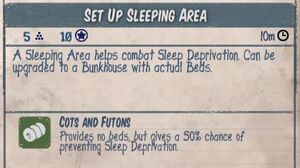 Facility Bonuses
Edit
Sleeping AreaEdit
"A Sleeping Area helps combat Sleep Deprivation. Can be upgraded to Bunkhouse with actual Beds"
Cots and Futons - +50% chance of preventing sleep deprivation.
BunkhouseEdit
"The more people we have, the more beds we need. This'll give us a few more places to sleep"
Beds: Provides +8 beds
Good Night's Sleep - Increases Everyone's Stamina by 10. (MUST HAVE A BED FOR EVERYONE!)
(Most homesites have this facility pre-built)
Beds: Provides +8 Beds.
Good Night's Sleep - Increases Everyone's Stamina by 10. (Must Have a Bed for Everyone!)
(Black Friday facility pre-built)
Beds: Provides +8 Beds.
Good Night's Sleep - Increases Everyone's Stamina by 10. (Must Have a Bed for Everyone!)
Reading Lights - Increases Everyone's Wits by 100%. (Must Have a Electricity!)
Requirements
Edit
Sleeping AreaEdit
BunkhouseEdit
25 Building Materials
3 Influence
Build time: 1 hour