Welcome to the State of Decay Wiki
State of Decay is an open world zombie survival horror video game developed by Undead Labs for Xbox Live Arcade and Microsoft Windows. The game was released on June 5th, 2013. For more information, please see its individual page or the parent page.

State of Decay (formally codenamed as Class 3) is a 3rd person zombie-survival/action game developed by Undead Labs and published by Microsoft Studios. The end of the world has come, and players must explore an apocalyptic landscape while fending off hordes of zombies. The environment is an open-world that evolves over time, generating varying content depending on player actions. Players can set up a fortified safe area, create supply chains, and collect resources. The XBLA version of the game was released on Wednesday, June 5, 2013, and the PC version followed up in November 5, 2013 Read more...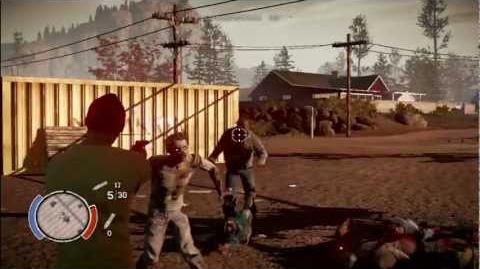 Year One Survival Edition: Release date
If you were online yesterday, you may have seen a couple posts here and there, on a few little-known sites like IGN and Polygon and Kinda Funny. What's up?
We announced the release date for the Year One Survival Edition. We'll be coming to Xbox One, Steam, and retail outlets on April 28 in the USA and around the world on May 1. (That's right, retail – YOSE is being released on disk. Woo! Tell your friends!) If you missed our announcement last summer, here's what it is:
Read More...
Join the Chat
Which of the following techniques you engage the most with in melee combat?
Create blog post
Recent Blog Posts
Breakdown Level 2.




Base = Trumbull valley Fairground




Community ( Bold = One of my first 10) ( Italics = Dead )




Lilly Ritter - Jacob Ritter - Tanner Battillori - Dennis Crook - Jose Portillo - Ezekiel Nieminen - Jack Calebresi - Erik Tan ( L…

Read more >

Hello, I once played breakdown for 17 hours almost non stop, I got sooooo into it. It was so epic that when all was said and done i wished i had kept records of it, like who were my origonal survivours, who died in what…

Read more >

I just wanted to supply the wiki with my information

Read more >
See more >