Welcome to the State of Decay Wiki
State of Decay is an open-world zombie survival game developed by Undead Labs for Xbox 360 and Microsoft Windows.
State of Decay 2 is now out! Purchase from Windows Store or the Xbox Game Pass now! Separate wiki now available here!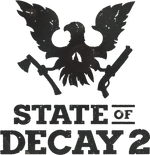 State of Decay 2 is an upcoming horror survival game sequel to State of Decay developed by Undead Labs and published by Microsoft Game Studios. It is planned to release on May 22nd 2018 for both Xbox one and PC, with an early release date of May 18th for owners of the game's Ultimate Edition. State of Decay 2 offers a vast open world game divided in three different maps, each with its own setting and locations. Read more...
The results of the previous poll showed that Edged Weapons were the most popular amongst State of Decay players in the original game by almost 400 votes!. Stay sharp out there.
Which map are you most excited to make a home in for State of Decay 2?
Create blog post
Recent Blog Posts
We settled in Meagher Valley. Greg and Clo picked up with us on our way into town, she was infected with the plague. We got into an old house on the outskirts pretty early in the morning. Sim, the doc, got an infirmary …

Read more >

Breakdown Level 2.




Base = Trumbull valley Fairground




Community ( Bold = One of my first 10) ( Italics = Dead )




Lilly Ritter - Jacob Ritter - Tanner Battillori - Dennis Crook - Jose Portillo - Ezekiel Nieminen - Jack Calebresi - Erik Tan ( L…

Read more >

Hello, I once played breakdown for 17 hours almost non stop, I got sooooo into it. It was so epic that when all was said and done i wished i had kept records of it, like who were my origonal survivours, who died in what…

Read more >
See more >