Home
Talk

4
683pages on
this wiki
Welcome to the State of Decay Wiki
State of Decay is an open world zombie survival horror video game developed by Undead Labs for Xbox Live Arcade and Microsoft Windows. The game was released on June 5th, 2013.

State of Decay (formally codenamed as Class 3) is a 3rd person zombie-survival/action game developed by Undead Labs and published by Microsoft Studios. The end of the world has come, and players must explore an apocalyptic landscape while fending off hordes of zombies. The XBLA version of the game was released on Wednesday, June 5, 2013, and the PC version followed up in November 5, 2013. The environment is an open-world that evolves over time, generating varying content depending on player actions. Players can set up a fortified safe area, create supply chains, and collect resources. Read more...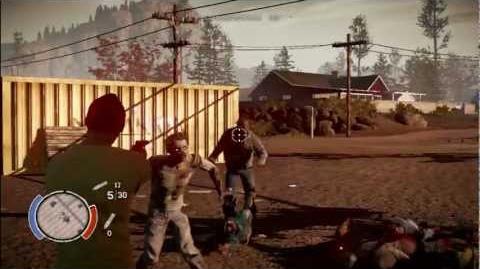 The first patch for State of Decay was released on June 14 2013. The patch fixed many issues that arose when the game was first released. Playable characters can now no longer be killed by the simulation. Workshops also repair weapons and vehicles after every game night, not a real-world night. All of the radio commands received a reduction for cool down times, most notably for Words of Encouragement, Words of Inspiration, and Medical Advice. The Too Many Infestations! event will now only occur if their are over 5 infestations within 500 meters of your home base. Finally, if both sides of your car are blocked, your survivor will bust out the windshield and exit through it..
Create blog post
Recent Blog Posts
I somehow got survivors in my base that are civillians however the chopper wont pick them up and all they do is drain my resources  and i cant get rid of them.

Read more >

My experience in Trumbull Valley







Starting characters = Jacob Ritter, Lilly Ritter Aaron Felderm. Hana Archer, Sawyer Archer.




( I dont know if Hana Archer and Sawyer Archer are brother and sister but they are both called Ar…




Read more >

I was wondering, as Undead Labs is continuing to make games, should there be a page to where we link to other wiki's for those games?

Their next game currently in development, Moonrise, is said to be released in 2015.

Read more >
See more >