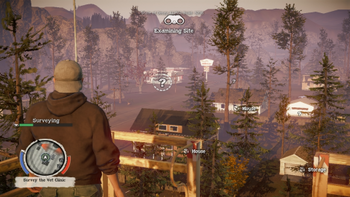 Surveying is the act of identifying Buildings, Enclaves, Vehicles, threats (Hordes, Infestations, Freaks) and other elements from a high vantage point called a Survey Point. There are multiple Survey Points scattered thoughout Trumbull County.
Description
Edit
Climb to the top of a Survey Point and enter aim mode, then hover the crosshair over Question Mark icons. Wait for the circular meter to fill around the question mark, indicating surveying progress. Once meter is filled, the question mark icon will change to the name of the identified element (such as "Vehicle", "Horde", "SWAT Zombie", "House" or "Storage"). In addition, an icon representing that element will be placed onto the player's map.
Missions involving Surveying
Edit
Eye in the Sky
Survey Request
Survey Point Locations
Edit
Mount TannerEdit
Spencer's MillEdit
Township
Spencer's Mill Cellphone Tower located behind the Swine and Bovine
Mountaintop located behind the Fork In The Road; accessible by dirt road located west of the Swine & Bovine, south of the Tavern
Water tower near Trailer Park; the east of Spencer's Mill
Wilkerson's Farm
Highway
Billboard adjacent to highway; across from Abandoned Site; eastern road between Marshall and Spencer's mill
Dinosaur adjacent to gas-station; eastern road between Marshall and Spencer's mill
Downtown district
Water Tower near the pharmacy
On the Office Rooftop during the first mission with Ray Santos
On the Office Rooftop adjacent to police station
Warehouse district
Water Tower next to Ammo Shop
Cellphone Tower near two Warehouses adjacent to the Snyder Trucking Warehouse
Water Tower adjacent to the only Office in the western half of Marshall
FairfieldEdit
Fairgrounds
Township
Cellphone Tower adjacent to three Warehouses adjacent
Water Tower next to the downed Apache gunship
FarmlandsEdit
Central region
Farm Silo adjacent to barn where the player first encounters Jacob
Water tower near Farmhouse Enclave where the player is sent to help the Military
Southern region
Farm Silo adjacent to abandoned area; the east of Marshal
Ad blocker interference detected!
Wikia is a free-to-use site that makes money from advertising. We have a modified experience for viewers using ad blockers

Wikia is not accessible if you've made further modifications. Remove the custom ad blocker rule(s) and the page will load as expected.