Swine & Bovine
Comments

6
558pages on
this wiki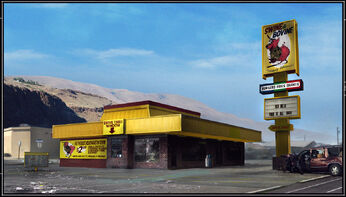 Swine & Bovine Restaurants were a network of fast food restaurants before the events of
State Of Decay
. There are four Swine and Bovine Restaurants in the game, one in
Spencers Mill
, two in
Marshall
, and one in
Fairfield
respectively.
Swine & Bovine Restaurants contain weapons such as frying pans and table legs.  They may also be a  good source of food for the home site.
These locations can be used as outposts or can house infestations of zombies.
Missing survivors can be found within them.
If an outpost is set up at any Swine & Bovine Restaurant, the player will receive an avatar award.