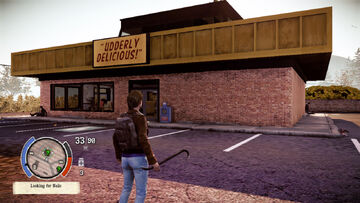 Swine & Bovine Restaurants
were a network of fast food restaurants before the events of
State Of Decay
. There are four
Swine & Bovine Restaurants
in
Trumbull Valley
, one in
Spencer's Mill
, two in
Marshall
and one in
Fairfield
. There are two
Swine & Bovine Restaurants
in
Danforth
that can be found in the
Lifeline
DLC, one in
Broadway Midtown
and one in
Thornhill Square-Tyron Plaza
, northern of
Black Friday
.
Swine & Bovine Restaurants are, unsurprisingly, a good source of food, which can be found on food shelves. Occasionally, Medicine can be found here, as well as melee weapons that are household items such as Table Legs or Frying Pans.
These locations can be used as outposts or can house infestations of zombies.
Missing survivors can be found within them.
If an outpost is set up at any Swine & Bovine Restaurant, the player will receive an avatar award.
The Signs on Swine and Bovine say "REM 20:12 THUS IT ALL ENDS"
Ad blocker interference detected!
Wikia is a free-to-use site that makes money from advertising. We have a modified experience for viewers using ad blockers

Wikia is not accessible if you've made further modifications. Remove the custom ad blocker rule(s) and the page will load as expected.