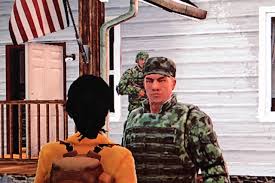 The Army has not attempted any evacuations for the civilian population nor has it attempted to provide relief to any
survivors
. They have also blocked two bridges leading outside the town of
Marshall
and shoot anyone attempting to cross.
They radio broadcast not to bury the bodies of the 'reanimated' but to place them in bags on the street for them to collect.
In the North-West part of the town is the Carnival grounds which was being used to a Command Center/F.O.B throughout the entire county until the "Black Fever" began to happen.In turn all Army forces retreated from the F.O.B leaving behind most weapons,an Apache,and leaving behind all soldiers sick with Black Fever. When Sgt.Tan attempts to contact Charlie-6 and with no response blows both gates blocking the bridge.The player and Tan reach the grounds where they learn that they have been left behind. Sgt.Tan and two other soldiers take refuge within the fair grounds and creates an Enclave known as "The Army".
It is hinted that army forces may have executed some squatters or scavengers.  Sgt. Erik Tan is quoted saying he has orders to 'Evict any squatters, with lethal force if they resist'.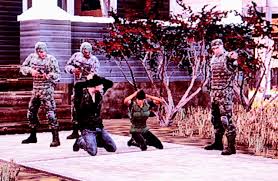 If you choose to assist Sgt Erik Tan with rescuing a group of survivors then you will gain the ability to call in artillery strikes at the cost of 50 influence.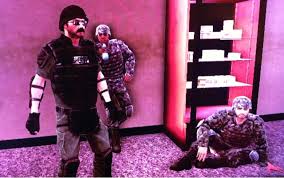 Known Members
Edit
Memorable Quotes

Edit
Sgt. Erik Tan: "Look, a civilian. Hello, civilian."